Reposted from 2011 Thanksgiving:
Okay, let's jump into the cooking a turkey debate.  And acknowledge that a perfect turkey is in the eye of the beholder…or cook.
Last year I had my very first deep fried turkey – I know, late to the party as usual – and I really enjoyed it.  But considering deep frying of any kind terrifies me, you will not see me attempting that anytime soon.  There's a reason only JeffreyW has deep frying recipes on the blog.  I will, however, enjoy the labors of anyone who wants to deep fry one for me (I'm looking at you little brother).
Traditionalists seem to like to roast their turkeys, basting and slaving over a hot oven for the perfect bird.  I'm not a traditionalist by any means.  Have I mentioned I'm lazy?  Yes, I do believe I have.
There is nothing wrong with this and for expert cooks, the perfect bird is attainable.  But for the rest of us mortals, traditional roasting can be a challenge.  It's too easy to over cook or under cook, leaving your white meat dry or your dark sections pink and unsafe – sometimes in the same bird.   But in case you want to roast, here are step by step instructions:
And here's everyone's favorite Alton Brown with a video demonstration:
Next up are the briners.  I have to tell you I do not understand brining a turkey.  I've had brined turkey, it's not my favorite.  But if you have a desire to brine, here's our trusty Alton again (seeing a theme here?):
One thing you'll see in all these examples is no one stuffs a turkey with stuffing.  In my humble opinion this is the easiest way to dry out your bird or accidentally poison your guests.  Stuffing needs to reach a temperature of at least 165 degrees to be fully cooked, at this point your bird will be completely dried out.  If you are looking for stuffing that tastes like it has been cooked inside the bird, do what my friend Alton does (no not that Alton), he buys and cooks turkey thighs and legs in chicken broth (or you can use the neck and giblets) and then uses that broth to season both his stuffing and gravy.  And both are wonderful.  Cook the stuffing in a casserole dish, covered for really moist stuffing.  If you like a crunchy top, take the lid off once the stuffing is warmed through and bake until golden brown on top.
So what do you do with that big cavernous space in your turkey if you're not going to stuff it?  Fill it with flavor.  I use a spice infuser or a spice bag and fill it with all kinds of wonderful spices, depending on my mood.  I've also added a whole onion or citrus fruits (all should be disposed of after cooking), to infuse the bird with intense flavor.  Citrus bird is one of my favorites after the traditional rosemary-garlic-sage spices.
This recipe for a citrus bird sounds wonderful and I may try it this year (yes, I do cook a turkey even if I'm having Thanksgiving elsewhere – how else are we going to have leftovers?):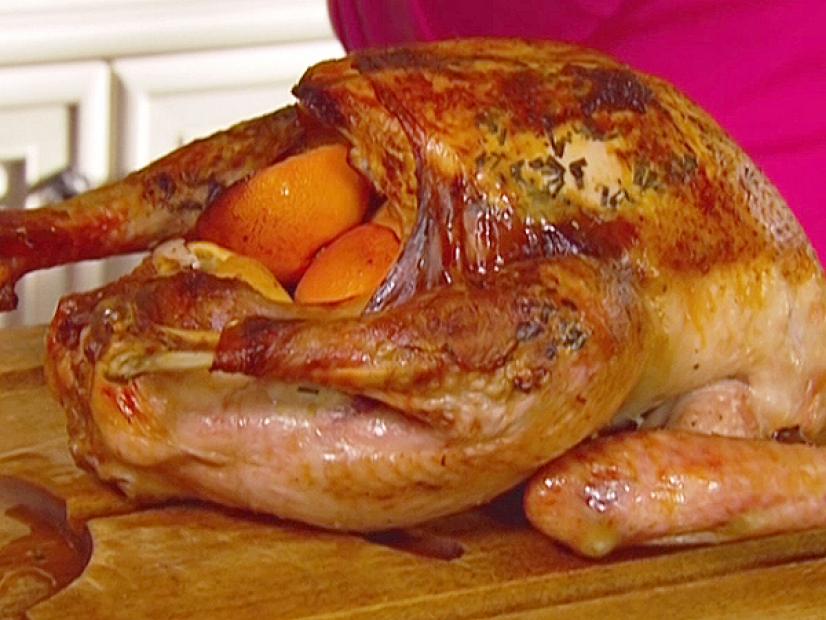 So how do I cook my bird?  After many mishaps, I've decided that the easiest and most foolproof way is to use a cooking bag.  I usually roast at a higher temperature than on the instructions (375 instead of the 325 they recommend) and the last 15 minutes or so, I open the bag, pull it back and let the skin brown nicely.
Whatever spices I decide to use in the infuser I also mix with butter and put under the skin of the bird at the breast and thighs.  I then coat the bird in olive oil and spices to get a nice browned texture.  This gives me a perfectly flavored bird that I don't ever have to worry about, so I can then concentrate on all the sides.  It's never failed me.
So if you are a novice, or even a seasoned cook, but don't want to take any chances on  disappointing your guests, I say go with a roasting bag.
Are you cooking the turkey this year?  How are you preparing yours?  Want to share a favorite recipe?  Nervous about pleasing a house-full of hungry company?
I may have a few more sides to share or we'll head straight into desserts.  Until then…